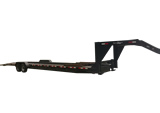 Car Hauler Trailer Rental - 38ft Dual Axle
Need to haul a vehicle or two? This 2008 model Down2Earth 38ft open deck car gooseneck hauler is certain to get the job done. This gooseneck has two 7,000 lb axles underneath it, allowing you to haul...more
Length: 38ft
Number of wheels: 4
Number of axles: 2
Axle rating: 7000lb x 2
Max payload: 9,200 lbs (4,172 Kg), Empty weight: 4,960 lbs.
$199.99/day
more info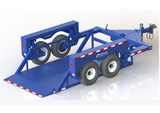 Drop Deck Trailer Rental - Air Tow T12-7
When moving something up trailer ramps is too large of a task try out this drop deck trailer. This Air Tow T12-7 can lift 7,000 lbs from the ground up into the transport position. This specialized trailer...more
Deck size: 75 inches x 144 inches (6ft,3inches wide x 12ft long)
Number of wheels: 4
Lifting capacity: 7,000 lbs
Lifting mechanism: push button 12V hydraulic pump
Number of tie-down lugs: 8
$179.99/day
more info
Orange Beach Oceanfront Condo Vacation Rental
Have you ever rented a vacation property from one of those vacation rental websites and worried that what you rented might be a complete hoax? This type of thing happens to people all the time where they...more
number of bedrooms: 2
number of full bathrooms: 2
number of half bathrooms: 1
square footage: 1200
beachfront: yes
$349.00/day
more info
Silverthorne Vacation Rental - Lodge 30A
This Silverthorne vacation rental is located minutes from world class ski resorts Breckenridge, Copper Mountain, Keystone, Loveland, and Arapaho Basin. At 8500 ft elevation you'll be perched at a vantage...more
number of bedrooms: 4
number of full bathrooms: 4
number of half bathrooms: 1
square footage: 2000
location: on the north side of Lake Dillon, minutes from Breckenridge, Keystone, and Copper Mountain
$349.00/day
more info
Toledo Bend Lakefront Cabin Vacation Rental
Enjoy your next getaway in one of the nicest cabins that Toledo Bend has to offer. This 3BR/2BA lakefront cabin sleeps 10 adults and children. There are three king sized beds and one queen size sleeper...more
number of bedrooms: 3
number of full bathrooms: 2
square footage: 1911
lakefront: yes
free wifi: yes
$325.00/day
more info
Frequently Asked Qustions (FAQ)
What is the minimum age requirement to rent equipment from DeRidder Rentals?
You must be 25 to rent most of our equipment, but we do have pieces that are available to rent at ages 21 and 18. The minimum age requirement is shown on the detail page for each of our items.
What forms of payment do you accept?
We accept cash and credit cards. Sorry, but we do not accept checks, nor do we issue credit.
I see your equipment parked out on the bypass, but where is your place of business?
We are located in the old Applied Technology building you see directly behind the rental equipment parked by the road. Our address is 142 Jodie Williams Road.
Do you have more equipment than is shown on your website?
We do our best to keep the website fresh and up to date, but sometimes we have equipment in inventory that isn't shown on the site. If you have something in particular that you are looking for give us a call at (337) 243-0511.
Do you charge a deposit on your rental equipment?
Most of our high value equipment requires a deposit to rent. The deposit amount is listed in the detail for the item. Deposits are returned in full if the equipment is returned to us undamaged, clean, and full of fuel (if applicable).